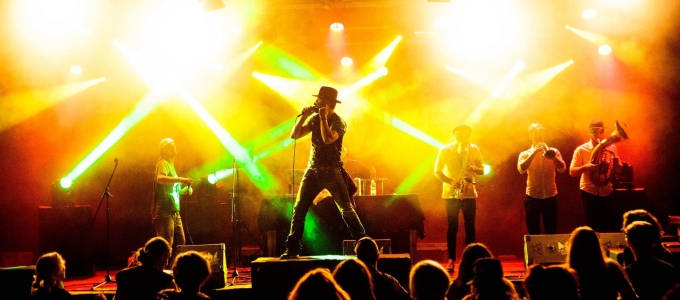 The Ufoslavians (Yugoslavia)
gipsy reggae cumbia ska hip hop electronic music
+DJs Jahvolo und Haris
Ballonfabrik // Einlass 20.30, Start 21.30 // 11.-
THE UFOSLAVIANS is outergalactic project/band created in 2014 by producers Haris Pilton & Marco Grabber.

They made first contact with planet Earth with their single ''Cigancica'' which was very well accepted by audience & critics around Balkan, Europe and rest of the world and also appeared on Balkan Beats No.6 compilation. Their first album ''Legal Aliens'' was released in September 2016. Album (''LEGAL ALIENS'') contains 14 tracks with different world wide vocals such as Joseph Cotton, Natanja, Fidzi, Tadiman, Ali Massive, Killo Killo, Chakka, Yuriy Gurzhy, Puka Kozmetika, Haris Pilton, Gipsy Soundsystem, Shanti Powa, Ricardo Luque etc.
From September 2016 The Ufoslavians did more than 50 performances in clubs and festivals around the Europe such as Boomtown Festival (UK), Lowlands Festival (NL), Exit Festival (Srb), Labertal Festival (DE), Maui Waui Festival (UK), Pyromagic Festival (PL), Goulash Disko Festival (Cro), Wschod Kultury (PL), Hootananny Club Brixton (UK) etc.
https://ufoslavians.bandcamp.com/album/legal-aliens
https://www.facebook.com/theufoslavians/
teaser https://youtu.be/MtRrrYUu4rM