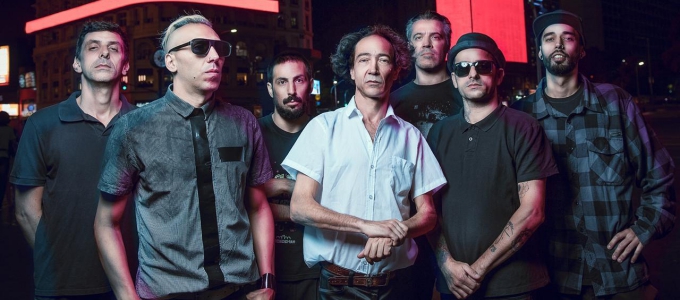 LAS MANOS DE FILIPPI (ARG)) Tour abgesagt
rock cumbia ska punk anticapitalist
City Club // Start 21.30
In his 25-year career, Las Manos de Filippi made 10 studio albums, 2 live albums and 2 DvD' s.
The band from its beginnings, and until today, was characterized by being next to the struggles workers and student in course. They participated in the most important festivals of Latinoamerica such as "Vive Latino" (Mexico), "Rock al Parque" (Colombia), "Viva el Planeta" (Colombia), "Voces contra el golpe" (Honduras), "Cosquín Rock" (Argentina), "Latinoamérica Unida en un solo canto" (Venezuela), "Latin America Festival of the Working Class" (Uruguay), "Festival for Public Education" (Chile).
In those years they shared stage, songs and activities with artists like
Zack de la Rocha, Manu Chao, Residente of Calle 13, Chico Trujillo, Ana Tijoux, Fermín Muguruza, Albert Pla and Diego Cortez, SKA – P, Los Autenticos Decadentes, Todos Tus Muertos, La Vela Puerca, Outernational,
Doctor Krápula, Skampida.
Las Manos de Filippi:
Hernan "Cabra" de Vega (Voz)
German "Pecho" Anzoátegui (Trompeta y voz)
Pablo MarchettI (Programación y coros)
Guido Duran (Bajo y coros)
Christian Fabrizio (Batería)
Silvio Pellis (Guitarra)
https://www.facebook.com/LMF.OFICIAL/