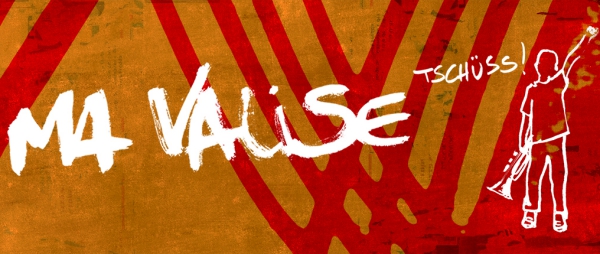 MA VALISE (FR) - ABSCHIEDSTOUR + Gaia Mobilij solo (ITA)
Reggae-Dub-AfroBeats-Rock-Musette + World Balkan Latin Gypsy Raga
Ballonfabrik
MA VALISE
20 Jahre sind seit ihrer Gründung in Nantes/Frankreich vergangen. An die 800 Konzerte haben in vielen Ländern Europas bis hin nach China Spuren wie ein lieblicher Wein aus der Bretagne hinterlassen. Der "fliegende Koffer" ist nicht nur wie eigentlich immer mit neuen, innovativen Sounds bestückt und sehr tanzbar, sondern gilt auch als eine der Topbands Frankreichs mit hohem Beliebtheitsgrad.
Diskografie: Noroc (2001), Bon Bagay (2005), Maya Ye (2007), Wege (2010),Travellings 1 (2015 – live album).
Es versteht sich von selbst, dass die Band nicht über Dosenbier und Mineralwasser singt, sondern sich am Puls politischer Ereignisse orientiert, ohne aber die Zärtlichkeiten des Lebens und der Menschen solidarisch außer Acht zu lassen.
Bedingt durch ihre Konzerte in Afrika/Mali und freundschaftlicher sozialer Kontakte zu afrikanischen MusikerInnen in Frankreich, wurde ab dem Album "Travellings" der Focus auf mehr Einflüsse aus dieser Region der Welt gerichtet. Reggae-Dub-AfroBeats-Rock-Musette war die logische Weiterentwicklung der Band. Wie immer gekonnt gespielt, ein riesiges Vergnügen ihrem Positivismus in der Musik zuzuhören und das Tanzbein zu schwingen.
GAIA MOBILIJ (vocals, accordion, piano, ukulele, lyra, synth and composition) is a musician and singer songwriter but also an international musical project.
Through frequent tours around the world she explored the music of various traditions including the Gypsy music from Romania, the traditional southern italian, latin music from Mexico and Colombia and Indian classical music.
Her show with band is actually based mostly on her original music and songs which is actually an energetic and explosive cocktail of all her musical influences.
Her profound passion will take the audience to dance and dream in a coloured, passionate and wonderful world! BIography
Gaia Mobilij was born in Italy where graduated in classical piano. Ethnic music enthusiast, she devoted herself to the study of the music and instruments from several areas of the Mediterranean including the Calabrian lira.
Through frequent tours and trips around the world, explores the music of various traditions including the Gypsy music of Eastern Europe, the traditional southern Italy and Colombian and South American music.
She is founder, leader and main composer of TALUNA (2011-2016) and in the last 4 years they toured USA, Mexico,
Canada and Central America participating also at Womex night in SXSW Festival in Austin (USA) and New York Gypsy
Festival. They recorded the album EXPER where most of the song are written by Gaia.
In her new album DISAD'TTATA (finished in November 2017) she collaborated with international artists and mixed her songs and compositions with music and sounds from Southern Italy, India, Mexico, and Israel.
The album was recorded in many places, from houses and courtyard to professionals recording studios.
With her new project "GAIA MOBILIJ and band" she already toured in 2018 in Italy, Turkey, Palestine and India. Her songs and her instrumental pieces are a synthesis of all her human and musical experiences: in her new show influence Gaia
Mobilji manages to mix sounds from all over the world, alternating between accordion and piano, conquers the public through the happy marriage between a profound musical training and the driving passion of popular music.
Actually she lives between Italy, Istanbul and India where she performs accompanied by musicians from different countries and experiences.